Stop the War!
Nelson, 20 Mar 2003 - "Not in my name", "Is oil thicker than blood?", "1234 we want no bloody war", "Beep 4 no war", and "Stop The War", were just some of the slogans brandished at today's peaceful, if noisy, demonstration outside Nelson & Colne College today. Well over a hundred students and staff from the college staged a protest against the US & UK going to war in Iraq. Traffic was slowed along Gisburn Road by the continuous use of the well placed Pelican Crossing outside the college gates. Many motorists added their "voice" to the protest by beeping their horns as they drove past. The event was well policed and only occasionally had to offer the odd piece of "safety advise" to some of the more boisterous students.
Reactions to the protest varied from full support as witnessed by the enthusiastic beeping, to hostile driving through the crowds. Some passers-by stopped to watch and others just carried on their way.
One women driver I spoke to later in the day said she felt a little intimidated by the crowds of banner-waving youths in front of her car and commented that this did little to purvey an ethos of peace.
All-in-all I thought it was a useful, peaceful and colorful demonstration of what a large number of the public were feeling today, even if they weren't out there themselves.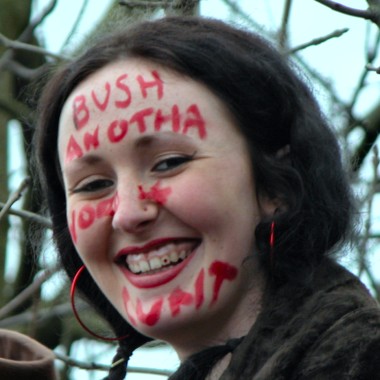 ...more pictures of the protest... (warning: BIG page - could take 2mins on a phone line)
[22Mar2003 - Special Note: I'd like to welcome the DoD Network Information Center, Marine Corps Combat Development Command, Quantico, VA 22134-5010 US. By typing "bloody war pictures" at Google this page you are reading comes up at the top! Now why were the marines looking for bloody war pictures at 21:10 GMT, don't they have a live feed from Iraq ;-)]
[23Mar2003] - One of my pictures appears on the BBC news website with other protest pictures from around the UK.]
Andrew Stringer
20 March 2003