[ Coffee Culture ] [ Cross Gaits Inn ] [ Jade Palace ]
Coffee Culture
Date of Review
29 Sep 2000
COFFEE CULTURE
Halstead Lane, Barrowford, Lancs
TEL: 01282 617200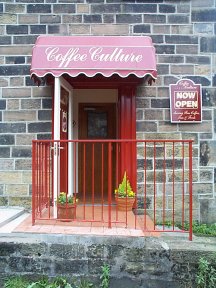 Entrance to Coffee Culture
"Is there life before coffee?" asks Graham Walker, of Barrowford's newest attraction.
What a pleasant surprise to find the wave coffee bars that has swept the civilized world in the past few years has finally reached Barrowford!
Located in an upstairs room at the end of the East Lancashire Towel Company mill across from the park, Coffee Culture provides a comfortable (leather couches!), relaxing environment in which to enjoy a variety of coffees and teas from around the world.
Coffee Culture was opened back in August 2000 by Graham and Catherine Walker, a couple who were born in the area but have spent the last 25 years in Christchurch, New Zealand running a successful hi-fi business.
My favorite, and now regularly consumed, beverage is a cafetiere of coffee made from freshly ground Espresso Reale blend of beans. Graham grinds the fresh beans seconds before making the drink to maximize the great flavor and aroma. "It's very important to prepare it this way," says Graham, "to get the very best coffee."
A favorite of my wife's is the Macchiato. This is a double shot of Espresso poured over velvety milk with a foam cap - it creates a layered drink with the foam on top, brown coffee in the middle and a white layer of milk at the base. A truly wonderful visual, taste and olfactory experience!
Coffee Culture claims that it can maintain the very high quality of the coffees and teas it sells because of it's connection with and exceptional supplier: The Drury Tea & Coffee Company, a family business set up in 1936 by the three Olmi brothers from Italy.
Not only can you experience your coffee and tea in the convivial atmosphere of Coffee Culture's premises, but you can also buy fresh beans from them (ranging £3.20 to £4.95 per bag). They are very happy to grind the beans to your specification on the premises.
If you're feeling peckish an excellent range of sandwiches (Turkey and Cranberry on a warn baguette is my favorite) and delicious cakes/pastries are available. They also sell other soft drinks such as smoothies (a favorite of our children) and fruit juices.
I think (hope!) it goes without saying that smoking is not allowed, though there are no signs to say this.
There's ample parking either outside the building or in the large free car park next door.
Opening Times
| | |
| --- | --- |
| Tue - Sat | 9.30am - 5.30pm |
| Sun | 1pm - 5pm |
| Mon | Closed |
Special bookings for evenings can be made for parties, etc.
Ratings
Food
8
Drink
9
Service
9
Atmosphere/
Environment
8
Value for money
9
Overall
9
Reviewer: Andrew Stringer