N-Z: Restaurant Reviews
T
The Sun Inn in Trawden is a small yet friendly pub with a warm and inviting atmosphere, combining great food and excellent beers.
The food is fresh and well presented by John Duffy and his team. There is a varied menu ranging from baked potatoes with various fillings through to enormous sandwiches, again with varied fillings to steaks of varying types. In addition to this there is also a specials board giving extra choices. Vegetarians are also catered for and I'm told that the cauliflower pancake is more than enough for most people. We like to see people's faces who are visiting for the first time when they receive their food. I can recommend various dishes as can my girlfriend. The Club Sandwich is something to behold. Each plate is adorned with an exotic salad, whether it be a starter or main course. Try the chili and see it come in a cauldron with a mountain of rice and/or chips. Venison, Kangaroo and Ostrich are all on the menu.
As for the beer, well what can I say. Websters, Theakston's, Beamish, Fosters, Cider are all on sale and they are well cared for.
Quiz nights are on Thursdays and there's Jazz on Tuesdays. Food is served all day Sunday or Wednesday, Thursday, Friday and Saturday evenings until 10pm. Try it and I'm sure you won't be disappointed.
Directions (see map here)
The easiest way is to come in by the main road from the Laneshawbridge end of Colne.
If coming from the Nelson end head for Laneshawbridge by whichever road. After the roundabout take the first right down Cottontree Lane. Follow the main road for about 2 miles through Trawden. Eventually you will come across the Rock pub on the left and the road starts to rise and bend, keep going. As you carry on you will come across St. Mary's church in front of you. Directly before the church turn right.
Warning
When you turn right keep right. DO NOT bear left. The road dips and then rises. On your left is a sign saying Sun Inn first right. Go slowly and you will see a white painted house with a sign saying Trawden Hill, turn right and you have arrived. Be careful as the car park is rough and uneven.
REMEMBER if you do go and enjoy DO NOT tell anyone else because we go most Sundays and I don't want it to get too popular as I don't want to be coming home hungry AND sober!!!!!
Z
Zio Ristorante (picture)
Gisburn Road, Barrowford, BB9 6DT
Phone: 01282 601999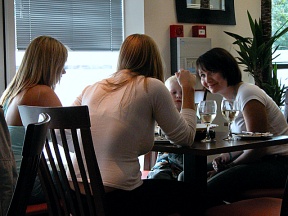 Barrowford has been crying out for a decent restaurant for years. Now it has one! Zio Ristorante (Italian, if you hadn't already worked that out) opened on the right hand side of the new block on Gisburn Road in the middle of May, 2003. The place is fronted by Maurizio (ex-Carlo's in Colne) with his brother running the kitchen, accompanied by a very capable and experienced staff - mostly taken from Carlo's in Colne (reminds me of how Carlo started out - splitting of form Da Giorgios over 20 years ago).
The place has a clean and somewhat minimalist decor which I find quite appealing. Gone are the fake Italian props and grating music often found in other establishments. As you enter there's a bar to the left, a raised platform area to the right (with window seating), and tables directly ahead with the kitchen at the rear. On this occasion my friend and I sat in the platform area and ordered drinks at the table.
The menu is quite extensive with the usual Italian fare of Pizzas and Pastas and also many other interesting dishes. We quickly ordered a large tomato & garlic bread (which looks like a large, simple pizza) to eat while we poured over the menu to select our main course. As I ate this light and crispy appetizer I pondered the enormity of the menu (not quite as large at the Coliseum in KL, but not bad for the UK :-)) Was it to be the "pollo julienne" (chicken with oven roasted chillies, garlic, red onions, white wine & fresh cream - £10.40) or the "farfalle al salmone" (butterfly pasta cooked with fresh salmon, a touch of tomato, parsley & fresh cream - £6.60)? Not being a beef eater I am no longer tempted by the awesome sounding "filetto rossini" (9oz fillet topped with pate, served on a crouton base with a red-wine sauce and a hint of cream - £14.65), and I decided that the equally gastronomically decadent "petto d'anatra" (boneless, peppered duck served with a wild mushroom duck puree, topped with Barolo wine - £12.95) would have to wait until next time. I decided to try an old favorite, "pollo alla crema" (chicken breast in a white-wine, mushroom and cream sauce - £10.20).
Great chicken! It was tender and moist: an absolute delight. It has been a while since I last had a pollo alla crema that tasted so good. The sauce was just the right thickness and not too creamy nor acrid (which happens when too much of yesterday's white-wine leftovers are used!). The main dish was accompanied by a side dish of mixed vegetables (boiled potatoes & various greens in a cheese sauce) which complemented the chicken well.
My companion had the "risotto gamberoni" (king prawn risotto, pan-fried with olive oil - £9.90) which was also a delight to eat, though he did mention that the prawns were more "prince" than "king" :-)
Although there is an adequate desert menu, we decided to skip desert and finish off with a couple of espressos - a caffeine super-deluxe, which is probably why I'm still awake at 0200 writing this!
In all, the staff were courteous and efficient, the food was excellent and the price was reasonable. I highly recommend Zio - so make sure you check it out... but book early as the place is always full! If you are unlucky and can't get a seat they do a take-out menu too.
Location: Gisburn Rd. (main road thru Barrowford) on the same block as the Spar. There's ample parking either across the road or behind the restaurant (entrance down the side of the Spar).
| | |
| --- | --- |
| Pros: | Great Food!, Friendly Staff, Cool Decor, Good Vegetarian Choices, Good Parking Facilities. |
| Cons: | Smoking! No comfortable seating area to wait in. |
Andrew Stringer, 06 June 2003